Webmaster
~ Votre site internet gratuit ~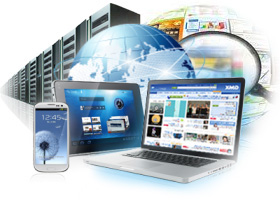 Conception, hébergement et gestion suivant vos besoins, le tout gratuitement avec CREAWY. Vous êtes juste redevable de la location annuelle du nom de domaine (+/- 12 euros/an).
Contact : info@creawy.net - Web : www.creawy.net
* Abondance - Lien : www.abondance.com
Toute l'actualité et l'information sur le référencement et les moteurs de recherche
* Balise Meta - Lien : www.balisemeta.com
Balise META ~ Optimiser ses Balises HTML de Métadonnées
Améliorer le Positionnement de son Site Web en Optimisant son Code HTML et en utilisant les Bonnes Balises META (Description, Title, OpenGraph...)
Le terme webmestre (webmaster en anglais) désigne communément celui qui est responsable d'un site pour les personnes extérieures à l'entreprise ou l'organisation dont le site est la vitrine.

Le terme, lors des débuts du World Wide Web, regroupait toutes ces fonctions ; cependant, il reste aujourd'hui très vague car chacune de ces tâches peut tout à fait être réalisée par une équipe entière, vu l'évolution qu'ont connue les technologies numériques.
C'est donc au webmestre qu'on s'adresse lorsque :
- un problème survient sur l'affichage des pages du site ;
- on veut contacter une personne de l'organisation que représente le site Web, mais dont les coordonnées ne figurent pas dans le contenu.

Selon l'ampleur de l'organisation ou la complexité du site, il aura les fonctions plus spécialisées de :
- webdesigner,
- développeur (programmeur) Web,
- responsable éditorial,
- soutien technique,
- administrateur réseau,
- administrateur système,
- chef de projet Internet/Intranet.

En outre, c'est une personne chargée de la maintenance et de l'évolution d'un site web. Un webmestre est généralement polyvalent. Il peut se charger aussi bien de la partie programmation, graphisme ou même du contenu du site. Le webmestre se doit aussi de faire connaître et de générer du trafic sur le site dont il a la charge.

En fait la fonction de webmestre est fonction de l'entreprise, ou de l'organisation dans laquelle cette fonction (métier) est exercée. Il est bien évident que la taille de l'entreprise ou du service modifie totalement le rôle défini du webmestre. Il faut bien prendre en considération que 80% des emplois sont dans des entreprises de moins de 20 personnes, dans ce cas, le webmestre est en quelque sorte l'homme-orchestre du site internet, il y fait pratiquement tout, à la fois du webdesign, du graphisme, du développement de bases de données, du marketing, création de liens, de plus en plus du référencement pour que le site dont il a la charge, soit bien référencé en moteurs de recherche.
---
Webmasters are practitioners of Web communication. Typically, they are generalists with HTML expertise who manage all aspects of Web operations. On a smaller site, the webmaster will typically be the owner, developer and/or programmer, in addition to the author of the content.

On larger sites, the webmaster will act as a coordinator and overseer to the activities of other people working on the site and is usually an employee of the owner of the Web site, hence webmaster can also be listed as an occupation. If the webmaster is hired by a larger Web site, or promoted to the position, they could do things from web design, to project management, or employee supervision. The range of activities to be undertaken by a webmaster may be estimated using the concept of Website scale.

In the early days of the use of the term "webmaster" (a take-off on the term "postmaster", the administrator of an e-mail system), this role encompassed all aspects of planning, coding, production, and user interface. The webmaster may have many of the duties of an information architect, including ensuring site usability, user experience and menu taxonomy.

However, since the late 90s, this type of webmaster role was typically only found working on small Web sites that could be managed by one person, or in environments where there was not a great deal of role definition. The current model tends to be more team oriented with a website manager or online producer leading a team consisting of web developers, designers, programmers, QA lead, Adobe Flash developers and often at least one usability expert or a UI/UE team. In established web development companies, especially those existing since the 90s, the term webmaster may be used by senior officers of the company, and may include usage such as "Webmaster-in-chief."

A broader definition of webmaster is a businessperson who uses online media to sell products and/or services. This broader definition of webmaster covers not just the technical aspects of overseeing Web site construction and maintenance but also management of content, advertising, marketing and order fulfillment for the Web site.

Core responsibilities of the webmaster include the regulation and management of access rights of different users of a web site, the appearance and setting up web site navigation. Content placement can be part of a webmaster's responsibilities, while content creation is typically not.

Typically, the webmaster is the agent who reads user feedback and complaints about site functionality.

Source : Wikipedia, Thefreedictionary